The Good:
Falcons fly high
Atlanta remains as the only unbeaten team, and had to beat the odds to do so. Philly's coach, Andy Reid, had never lost coming off of a bye week since he took leadership 1999. Many thought that a well-rested Eagles team might sneak up and deliver Atlanta their first loss of the season, especially since they were the Falcon's first opponent with a winning record, but that didn't happen. Atlanta broke out the gates early and never slowed their pace. Matty Ice delivered one of his most impressive games this season, completing 76% of his passes for 262 yards and three TDs. He displayed great pocket presence and linked up with Julio Jones on a 63-yard bomb. Overall the Falcons offense looked completely synced as their aerial attack led to scores on their first six drives. Final score: Falcons 30, Eagles 17
Teach me how to Dougie
Doug Martin, running back for Tampa Bay, absolutely danced on the Vikings defense and totaled the best numbers of his short, rookie career. Martin found holes in the Vikings defense, and when there weren't holes he shifted to create them. In total, Martin tallied 214 total yards, 135 of which were rushing. He displayed patience, balance and speed as he accounted for the majority of Tampa Bay's offense and statistically lead in rushing and receiving. Watch out for him in future because this didn't appear to be a fluke game. Final Score: Buccs 36, Vikings 17
Lone star
Dallas didn't have much to cheer about after an extremely painful loss to the Giants, but there was one bright spot. Overall, Dallas' offense failed to produce, as expected under Romo's leadership, but Jason Witten consistently performed. Hauling in 18 receptions, Witten set a NFL record for tight ends and broke the Cowboys team record he previously set. Those 18 receptions led to 167 yards. Witten continues to solidify his position as the best TE in Cowboys history, and a game of this magnitude was highly unexpected considering the many drops he had while returning from injury earlier this season.
The Bad 
St. Louis gets rammed in England
Rapid rise in NFL popularity lead to international games played in London for the past few years. Fans in London appreciate the games, but I'm not so sure they're satisfied with the product they received this year. New England felt right at home and blasted the Rams in epic fashion. From the Rams standpoint, how do you fold and give up 45 points? At some point integrity should kick in and lead to better play, yet they were just going through the motions. How can they help further the NFL brand when their product was equivalent to a flag football team? Final Score: Patriots 45, Rams 7
Butterfingers
RG3 had every right to be the most frustrated player this week. His Redskins were over-matched by a tough Steelers team and played like they believed it. Griffin stayed in the pocket and delivered several passes to his receiver's hands, yet many passes fell to the turf. RG3 completed 16 of 34 passes, which is definitely something to frown upon, but his receivers dropped 10 passes. Consider the difference these drops could have made in potential scoring drives or maintaining offensive momentum. The Skins apparently had a popcorn party before the game. Everybody arrived with butterfingers.  I think its permissible to allow their receivers to wear Stick Em. Final Score: Steelers 27, Redskins 12
The Ugly
Retros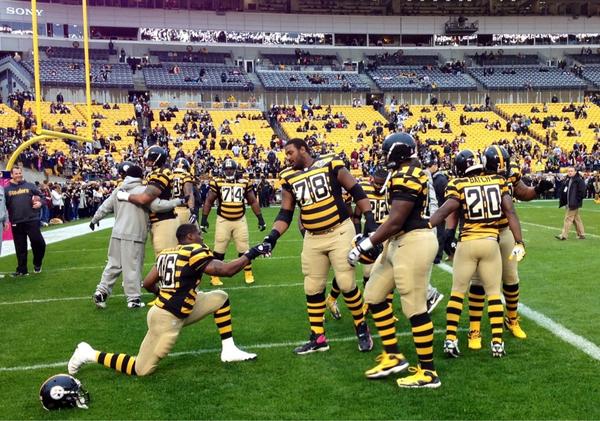 Pittsburgh decided to sport a vintage look… and it failed miserably. There aren't enough words to describe how appalling their jersey's looked. They were the 1934 edition for a reason and should have been left in the past. I wasn't sure if I was watching a bumblebee documentary or watching convicts form a modern version of the gridiron gang.